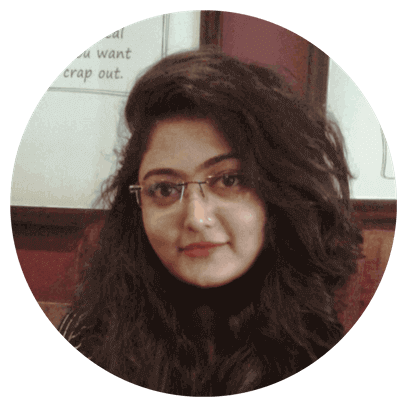 Prerona Sengupta
Rasgulla-writer, caretaker of bookworms, happy-face always, chai-lover, sorted book-shelf, live in moments.
Best Books To Read For Success

As I was delving into the Durga Puja lunch one recent afternoon, the tempting 'gurer roshogolla' (rasgulla filled with jaggery) melted in my mouth instantly and for a moment I was back to the 'City of Joy'- Kolkata! Believe me you; nothing can be as blissful as this for me. But then if that so, then what am I doing in Pune? Why did I opt for the MBA? And why am I struggling with the rapid fires of life?  Well, like the old grandpa said, 'the taste of sweet bitters, if you do not carry Gandhiji in your pocket' (hopefully you know what I mean). So, even I am one of those rats running in the race hoping to finish successfully.
Success is not just a word by the way! Don't fall into the trap of thinking it just as a 7 letter word for god's sake. It is that what you are seeking every moment (and not just you, everybody for that matter). For once, you might get an appointment with NaMo but to get success is quite another business, I tell you. It is where we start our voyage of life without even knowing what route we're supposed to take. And like always, I would be honest with you, this article will not give you a direct appointment with success though (were you expecting that?), yet it can fetch you with a rough idea about the path that you may follow to reach it (not a bad deal you see, if you read it).
No! No! No! I will neither ask you to meditate nor to perform a 'shirshasan' (where you need to stand with your head upside down). But before I tell you about 'you know whom I am talking about' (uff!! Not Voldemort, only those will understand who have read Rowling's masterpiece), first ask yourself whether success is just important and enough for you? When I asked this to myself, I wanted more definitely (I am not at all a complacent person, no matter how much I eat, I am still hungry) and that includes wealth, prosperity, and self-development along with success.
By now, if your cognitive and affective minds are moving parallel to mine, then please continue reading, and even if not then too, read to know why my thinking is so (trust me, you won't regret, rasgulla swear!).
*chants a magical spell*
And here is a list of 10 books that will not bore you or make you yawn and you might just skip your upcoming football match on TV or even the date on Sunday evening for reading them (I skipped my breakfast for reading the fifth one, which one? Read to know,) I read each of them, and if I can have the patience to read them, so can you. And these books I am recommending only after getting fruitful results by reading them and not just like that (I always taste before I  recommend, be it a book or a burger).
Though it is really difficult to bring out the crux of each book (like that of taking out the 'malai' from 'dudh') as each book is an experience itself, yet I have tried to bring out the core objective of each book to match each reader's need, demand, and desire.
So let us begin with this beginning of a benign.
---
When you make a choice, whom do you listen to? Heart or mind?"– 'Thoda socho, bass thoda sa…..'
'Thinking Fast And Slow', by Daniel Kahneman
In this book, the author breaks down your thought patterns into two segments, one as the impulsive-emotional system and the other as the logical-deliberate system. Knowing when you are using one when you should be using one, and when you should be using the other, could be just the key to unlock the success path by taking the right decision and making the right choice.
---
Is your blood group B+? If so read it once, if not, read it twice!
'The Power Of Positive Thinking', by Norman Vincent Peale
The author (who is recognized as the father of positive thinking) talks about of how you can be happy which in the long run (even in short run… any run precisely) makes you meet success' cousin 'optimism'.
---
Time to think of more than long drives…..
This book was gifted by my dad when I was going through a turmoil in my career. It illustrates the fact that motivation comes from many sources and that at the highest level of performance, motivation comes from your deepest most profound sense of who you are and what you want to be.
---
Don't lead a life of being average…instead, buck up for a motivated life.
'Don't Sweat the Small Stuff', by Richard Carlson
The book emphasizes on motivation. A big part of the motivation is clearing your mind of the clutter that weighs it down. The author helps you to differentiate between what's really important and what's just 'noise in the system'.
---
'Becho! Becho! Becho! Is an art! My friend…
'The Greatest Salesman In The World', by OG Mandino
The author's faux –biblical parable encourages you to live your life to the fullest by believing yourself and your ability to help others. Required for anybody who has a passion for becoming a pro convincer and which to be correct, it's a desire of everyone (isn't it yours too?)
---
If you want success, you need to take the right decision
'As a Man Thinketh' by James Allen
The author talks about how your thoughts mold your personality and that drives you to take actions & determines the type of actions you'll take.
---
Kya kare ab .. control hi nahi hota…. (We barely have a control on…..)
'Awaken The Giant Within', by Tony Robbins
It tells you about how to take an immediate control of your mental, emotional, physical and financial situation? The author says it all. He is unlike most motivational writers in two ways. Firstly, the author treats training of mind and body as a technological challenge rather than a moral imperative. Secondly, he somehow manages to be both an inspirational role model and the most annoying guy on the planet.
---
Money hai to honey hai…(where there is money, there is honey)
'Think & Grow Rich' By Napoleon Hill
It is not just a written piece of accumulated fancy words, rather, it is an accumulated study of thought processes and behaviors of 40 millionaires the author interviewed. His study of their best practices was revolutionary in a world where it was largely assumed that great wealth resulted from a combination of greed and luck.
---
Facebook and Whatsapp are just not enough guys…..
'How To Win Friends & Influence People', by Dale Carnegie
Prior to this classic, mixing business relationship with personal ones was considered a bit underhanded, like nepotism. After this book got published and got read by people of sense, the combination of a relationship between personal and business was not just seen as compatible but as absolutely inseparable.
---
Add this to your daily habit of brushing twice…
'The 7 Habits of Highly Effective People', by Stephen R Covey
The book is a roadmap for living that not only helps you develop better habits but also convinces you that these habits would make you a better person.
And before this Rasgulla Writer wraps up, on a serious note, let me tell you that without reading you can never have a way to success.
Keep reading and stay awake with books as you won't find a better friend and mentor. Taste the variance of life, experiences, and travel around the world through words of spheres like I do.
Until next time.
You can also check out our short video book-summary of Stephen Covey's 'The 7 Habits Of Highly Effective People'.
By the way, have you subscribed to Booksom yet?
[jetpack_subscription_form]