"We create book-inspired products that are beautiful, high-quality, quirky and simply a DELIGHT to use", is what we say to anyone who has ever asked us what we do.
Booksom is a small business started by three humble souls who LOVVVE books and wished to fill their lives with all the quirky book-themed products.
Passionate about designing and handcrafting unique book-themed merchandise, they have conjured unique products for use in daily life, travel, productivity and wellness.
Located in the jolly-folked Pune, India, Booksom as a brand has evolved by reading eleventy thousandred stories (and counting) from around the world.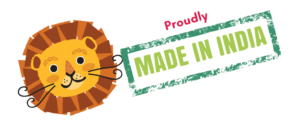 All our tasteful products are made in small batches with a big heart. 🙂
You may also use our brilliant Compare and Buy feature that compares prices across several e-commerce portals and buy a brand new book for the cheapest available price. Well, it's a helpful tool not only for books but for anything available online. Useful, right?
There's more, of course. Every once in a while, Booksom on its YouTube channel shares a video book summary or a smart DIY video that might be to your liking. Check it out.
Follow our story on Facebook, Twitter and Instagram. Thank you for turning this new page with us.
Company Incorporated as: Booksom Tech LLP