Howdy, reader!
Meet Booksom, a curious chap who was introduced to the magical world of books at a very young age, and who has loved reading ever since. Till date, it claims to have read some eleventy-thousandred stories, and is highly nostalgic about them. It has huge plans to feed this sentiment for itself and for all other book-dragons out there, and setting up this website is a step in that direction.
For a start, it has released its own line of apparel (socks first), and its exclusive line of scented literary candles that recreates a book's popular mood or locale and makes your reading nook amazing-smelling.
You can also use Booksom's brilliant Compare and Buy feature that compares prices across several e-commerce portals and buy a brand new book for the cheapest available price. Well, it's a helpful tool not only for books but for anything available online. Helpful, right?
There's more, of course. Every once in a while, Booksom on its YouTube channel shares a video book summary or a smart DIY video that might be to your liking.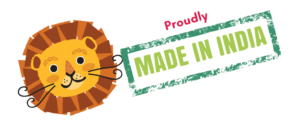 Booksom's virtual home is based in jolly-folked Pune (Maharashtra) and is managed and maintained by three amazing humans. Follow our story on Facebook, Twitter and Instagram. Thank you for turning this new page with us.
Company Incorporated as: Booksom Tech LLP